international potential of 2 million tons
The Netherlands remains the country to beat this season in the world market of onions. The export data of Holland Onions have already passed the magical number of 600,000 tons around the turn of the year. Runners up with a huge boost in export volume this year are new destinations such as Panama, Brasil and Indonesia.
16% of the total export volume of Holland Onions finds its way to new, exotic destinations. The top 5 at present consists of Senegal, Ivory Coast, United Kingdom, Brasil and Malaysia. The onion is the largest vegetable crop in the world. That world market will continue to grow.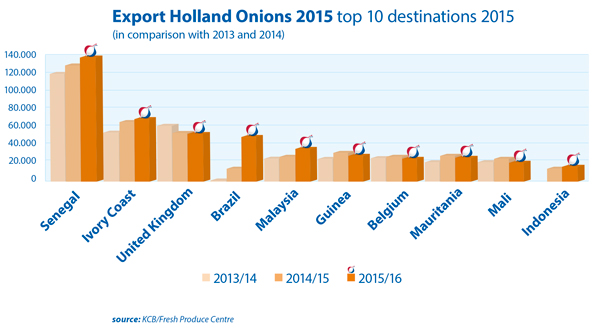 Not in the least because the world population will expand to 9.2 billion people in 2050, but also thanks to the still increasing interest in healthy food. In 2050 the global consumption could be as much as 150 million tons. At present, the average consumption is approximately 10 kilos per capita, but since the growth is mostly taking place in regions where the consumption is much higher, we expect the average consumption to rise to 15 kilos.
The sales and export opportunities for Holland Onions are considerable. The export of the Dutch onion sector has more than enough potential to grow to 2 million tons in 2050. After all, the Dutch onion sector has a unique position in the world when it comes to logistics!